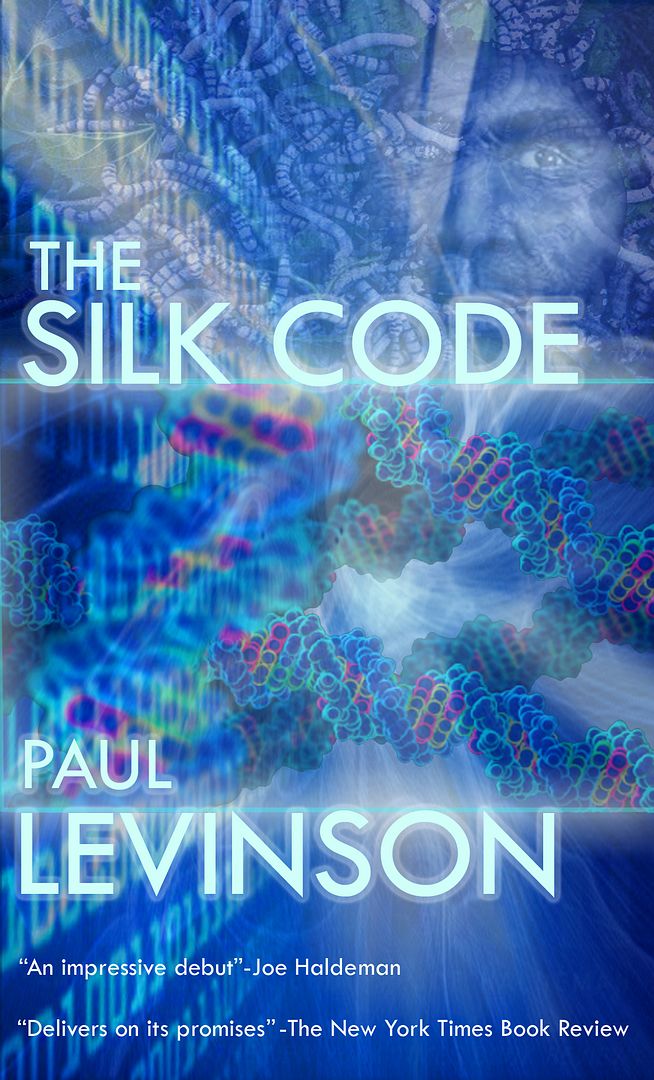 I'm delighted to announce that JoSara MeDia has just published Kindle and ePub editions of my first novel, The Silk Code.
The Silk Code, originally published by Tor Books, won the Locus Award for best first novel of 1999, and reached #8 on the Locus paperback Best Seller list in February 2001. The novel received praise from The New York Times, The San Francisco Chronicle, and reviews in dozens of other places.
I'm especially excited about this new edition because it is an "author's cut" of The Silk Code. The Tor edition, like all books brought out by big publishers, went through extensive copy editing. In this new eBook edition, I reinstated a lot of my original wording, which I always liked better. I see such author's cuts as a major step forward in publishing. The Silk Code is not only available as a Kindle, but as an eBook on Barnes & Noble and all the digital outlets.
The Silk Code ebook sports a new cover, created especially for the novel by Joel Iskowitz, whose designs have appeared on stamps around the world, US coins, and NASA murals.
I chose JoSara MeDia because I wanted for The Silk Code a savvy, small publisher, unencumbered by baggage from the pre-digital age. JoSara MeDia has published award-winning authors in multiple formats, including print, eBook, and enhanced eBooks in the form of iPad and Android applications. JoSara MeDia also works with non-profit organizations, such as the Texas State Historical Association, assisting them with strategies and solutions to get their content available in these multiple formats.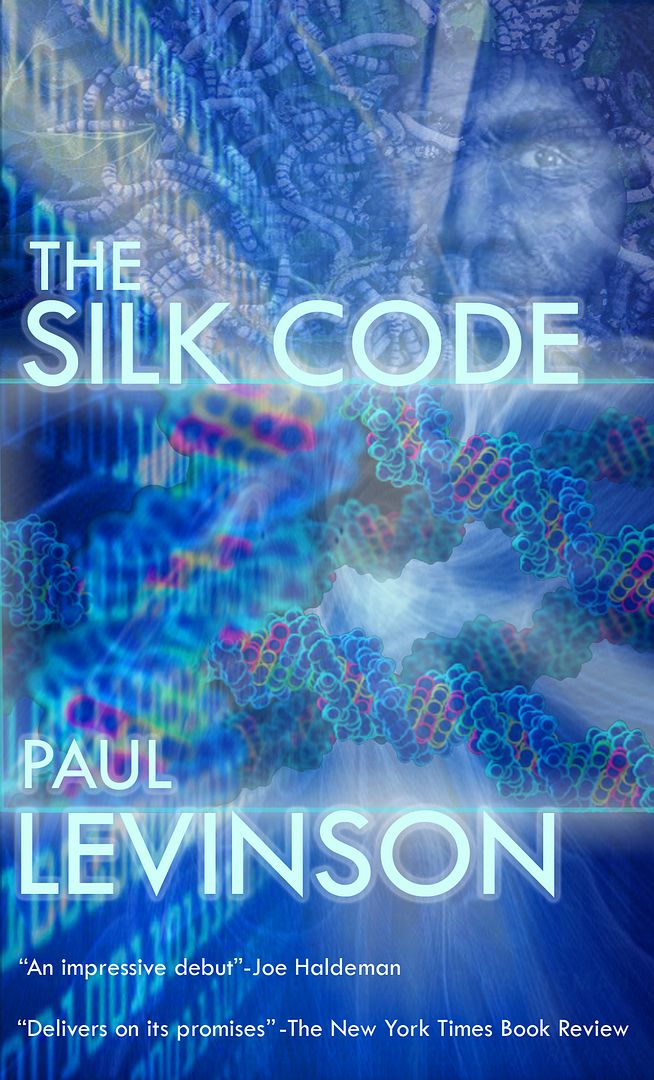 What the critics said:
"As a genre-bending blend of police procedural and science fiction, The Silk Code delivers on its promises." -- Gerald Jonas, The New York Times Book Review
"As twisted as a double helix. " -- Wired
"D'Amato is an appealingly savvy character, and Levinson brings a great deal of invention to the endeavor." -- San Francisco Chronicle
"It is hard to put down, easy to pick up again, and an interesting read. " -- San Diego Union-Tribune
"Mixes up-to-the-minute biotechnology with ancient myth, science fiction with police procedure, and prehistory with the near future. It's an impressive debut." -- Joe Haldeman
"Forensic detective Phil D'Amato is one of my favorite characters, and the puzzles he solves are always imaginative, ingenious, and addictive, but Paul Levinson really outdoes himself this time in a mystery involving murders, moths, mummies, the Silk Road, poisons, fireflies, and forensics, all woven into a mystery only D'Amato could solve! A marvelous book!" -- Connie Willis
"This damn book has everything: interesting science, suspense, characters that live on the page - and that we like! -- and it debuts a new series hero, Dr. Phil D'Amato, forensic detective. I couldn't put The Silk Code down. I'll wager you won't be able to either. Oh, and this is the kicker: The Silk Code is Paul Levinson's first novel. " -- Jack Dann
"At last we get Paul Levinson's superb forensic sleuth, Phil D'Amato, in a full-length novel. If you know Phil from his previous appearances, I need say no more. If you don't, kick back and enjoy a mystery that spans the ages." --Jack McDevitt
"The Silk Code is an intriguing story refreshingly rich not only in action but in ideas. Seldom have I seen a story so engagingly weave together so many seemingly disparate (dare I say it?) threads." --Stanley Schmidt, editor of Analog
"Paul Levinson is an exceptional new writer, behind whose work stands an impressive body of knowledge and a great deal of human understanding. His first novel signals a writer to watch for the provocation and pleasure that he will bring to thoughtful readers. The Silk Code is smoothly written, evocative, and spicy! Highly recommended." -- George Zebrowski
"The Silk Code is a splendidly imaginative novel that explores worlds of ideas both scientific and philosophical, while carrying the reader effortlessly across countries, times, and cultures." -- Charles Sheffield
"The Silk Code is science fiction in the classic style, with an innovative mystery that breaks new ground. Acclaimed for his short fiction and insightful writing on the computer age, Paul Levinson now brings his many talents to a complex novel that will keep you guessing until the last page. " -- Catherine Asaro
"... sheer conceptual verve" -- Robert K. J. Killheffer, The Magazine of Fantasy and Science Fiction
"...cerebral but gripping" -- Booklist
"Combining Neanderthals and mechanical looms, cantaloupes and coded butterflies, Levinson's debut novel...offers a flurry of amazing prehistoric technologies, demonstrating that the mysteries of our past can be just as fruitful as those of our future... Levinson creatively explain gaps in both ancient history and biology... providing more wonders than many a futuristic epic." -- Publishers Weekly
"...well-informed and imaginative" -- Kirkus Reviews
"...spins an ingenious web of genetic manipulation and anthropological evidence" --Library Journal
"A rare thriller that actually achieves its goals as a detective tale and a work of boldly speculative sf." -- Gary K. Wolfe, Locus Magazine
"I read this book quite a few years ago but I felt compelled to re-read it because parts of the story have been so firmly wedged in my brain that I needed to experience the entire thing again." -- Cannonball Read
and ... "Daddy, this is the best book I ever read!" -- Molly Vozick-Levinson, 12 years old at the time